"Janet Stevens has the experience and commitment needed to be our next Executive Councilor. She has spent many years giving back to our community through her work with nonprofits, local government, and her proactive participation in state government as a gubernatorial appointee to boards and commissions. I'm excited to support her bid for this seat and encourage others to do the same."
– Former District 3 Executive Councilor Ruth Griffin, Portsmouth
RECENT
ENDORSEMENTS & ACCOLADES
District 3 Leaders Supporting Janet Stevens for Executive Council
"Janet Stevens has the experience and commitment needed to be our next Executive Councilor. She has spent many years giving back to our community through her work with nonprofits, local government, and her proactive participation in state government as a gubernatorial appointee to boards and commissions. I'm excited to support her bid for this seat and encourage others to do the same."
- Former District 3 Executive Councilor Ruth Griffin, Portsmouth
"When a New Hampshire insurance carrier dropped reimbursement rates by 20% in major coding categories, the negative impact to New Hampshire practitioners and families could not be ignored.  I rolled up my sleeves and went to work for all New Hampshire families and Licensed Marriage Family Therapists, Licensed Clinical Social Workers, Licensed Mental Health Care Providers, Psychologists etc. to find a solution – proud to have advocated/negotiated a return to original rates!
Through an amazing advocacy effort from the NHAMFT Board, the Family TEAM, Executive Councilor Janet Stevens, NH-NASW, and many, many of our outspoken members who advocated on a personal and systemic level, we are proud to inform you that rates for these billing codes will be restored to 2019 rates by 9/1 or 10/1!

NHAMFT wants to highlight the work of Executive Councilor Janet Stevens. She was integral in this effort to push these concerns on a governmental level to influence this change. Councilor Stevens has not only been outspoken on this issue, but she has also been an advocate for mental health, NH families, and therapists. Her email is janet.l.stevens@nh.gov for any of you who may want to reach out to extend any thanks.
– Chair-Elect of NH Association of Marriage Family Therapists
"So, I invited Counselor Stevens to join, and she indeed plans to, in case she doesn't like what she's hearing.  BUT... I'm hoping it's good news.  I'll get back to you all later with any information.  Councilor Stevens is being an amazing advocate for we providers and for NH families, by the way. She gets it, and she also receives all sorts of contacts from constituents, families in her district that are so struggling with pandemic related changes, mental health problems, suicidality, and much more. She was all over this, and between all of these meetings and I believe her applying pressure, …..really felt it. I scarcely dare to hope that they would change this rate drop, though if they do, it will be a great victory for all of us and for families."
- Former Chair of NH Association of Marriage Family Therapists
"Janet Lannan Stevens thank YOU and Commissioner Nicolopoulos for correcting an egregious attempt by (Insurance carrier) to shortchange providers who serve couples and families in NH.  The impact would have been devastating, especially during a time when families have never needed us more.  Your tireless efforts and support do not go unnoticed.  Thank you for making this right for all NH mental health providers and the consumers who would have had devastating ripple effects had you not stepped up."
- Former Chair of the NH Board of Mental Health Practices and Licensed Therapist.
"Of all the candidates running for District 3 Executive Council, Janet Stevens is the best equipped to handle the duties of the job. I have been impressed with her depth of understanding of the issues facing the Council. It's not only about the fiscal aspect of approving contracts, but also having a sense of the most efficient and effective way of delivering government services. Her experience in and outreach to the business community and the nonprofit sector, as well as her service on the board of Mental Health Practice make her especially well prepared to thoughtfully evaluate contracts large and small, as well as the Governor's nominees for state positions in the executive and judicial branches."
- Former Speaker of the New Hampshire House Donna Sytek, Salem
"The communities, businesses, and families of District 3 will be best served with Janet Stevens as their next Executive Councilor. The Council is responsible for crafting a state government that is transparent, efficient, and responsibly serves the taxpayers who fund it. With experience in the nonprofit, private, government sectors, Janet will make an exceptional addition to the Council and will be a strong advocate for our district. She has already shown her ability to lead during this pandemic by working to improve access to mental health, advising small businesses on state and federal support options, and working with locally elected officials on projects in their towns. I am proud to announce my endorsement of her campaign and to cast my vote for her in the Republican primary."
- Former State Senate President Bill Bartlett, Kingston
"Janet will end government waste, protect our 2nd amendment, support our veterans, expand school choice, defend elections from fraud and say no to taxpayer funded abortions. Janet Stevens has my full support for Executive Council and I encourage the voters in District 3 to join me in supporting her." -State Senator Regina Birdsell, representing Derry, Hampstead and Windham 
State Senator Regina Birdsell, Representing Derry, Hampstead and Windham
"Janet's experience at the local and state level is quite impressive and I applaud the work she has done with the Mental Health Practices Board during the pandemic. After learning of the work she's done for nonprofits, her community, and our state, I believe she is the best candidate in this race. Janet Stevens will protect taxpayers' dollars from wasteful spending, vote to appoint qualified, effective leaders to our state agencies, and will be a conservative, commonsense voice representing District 3. I encourage my colleagues and constituents to join me in support of Janet Stevens for Executive Council."
- State Senator John Reagan, District 17
"New Hampshire's Executive Council, essentially, serves as the Board of Directors of State Government. Janet has the skill set, knowledge and experience to uphold the role of an Executive Councilor - at an exemplary level. Discernment, empathy, leadership, the ability to build consensus, while providing a public service for the people of New Hampshire, is what it takes to be an Executive Councilor. Janet exudes all of these qualities. The constituents of District 3 will be well served by Janet Stevens as their next Executive Councilor – they can trust she will work hard each and every day to represent them."
- Former District 3 Executive Councilor Bill Cahill, Piermont
OTHER ENDORSEMENTS INCLUDE:
The Honorable Ruth Griffin of Portsmouth, former District 3 Executive Councilor
The Honorable Donna Sytek of Salem, former Speaker of the NH House & NHGOP Chair
The Honorable Bill Bartlett of Kingston, former State Senate President
The Honorable Bill Cahill, former District 3 Executive Councilor and Chairman of NH BIA
State Senator John Reagan of Deerfield, Senate District 17
Kitty Sununu of Rye
John Lyons of Portsmouth, former Chairman of the State Board of Education
Sean Mahoney of Portsmouth, former RNC National committeeman & business leader
State Representative & Selectman Arthur Barnes of Salem
State Representative & Town Councilor Brian Chirichiello of Derry
State Representative Mary Griffin of Windham
State Representative & Selectman Joe Guthrie of Hampstead
State Representative & Town Councilor Phyllis Katsakiores of Derry
State Representative Walter Kolodziej of Windham
State Representative & Selectman Charles Melvin Sr. of Newton
State Representative John Potucek of Derry
State Representative David Welch of Kingston
City Councilor Peter Whelan of Portsmouth
Bill Epperson of Rye
The Hon. Sean Morrison of Epping
Patti and Dr. Jim Bette of Rye
Henry Boyd of Seabrook
Tina Carey of North Hampton
Joan and Jerry Gittlein of Rye
Patricia and Dr. Mark Henschke of Rye
Michael Kane of North Hampton
Nancy and Warren Kindler of Epping
Greg Mikolaities of Rye
State Representative Betty Gay, Salem
State Representative Everett McBride, Salem
State Representative David Milz, Derry
State Representative John O'Connor, Derry
State Representative Stephen Pearson, Derry
State Representative Kim Rice, Hudson
Selectman and former State Representative, Joe Hagan, Chester
Tanya Donnelly, Salem
Barbara Dunkle, New Castle
Lauren LaMarsh, Derry
Susan Parker, Greenland
Patty Steele, Hampton
16-term Rep. Ken Weyler of Kingston
Rep. Stephen Pearson of Derry
Former House Judiciary Committee Chair Joe Hagan of Chester
Former Rep. Richard Gordon of East Kingston.
Peter Rice of New Castle
The Hon. Jeff Oligny, Former State Representative, Plaistow
Doug Abrams, Rye, Seacoast business leader
Bill Burke, former Chief of Portsmouth Police Department
Nancy Novelline Clayburgh, School Board Member and former Assistant Mayor, Portsmouth
Alan Gould, former Chief of Rye Police Department
The Hon. Gates Lucas, Former State Representative, Portsmouth
KIND WORDS FROM DR. RHONDA HODGE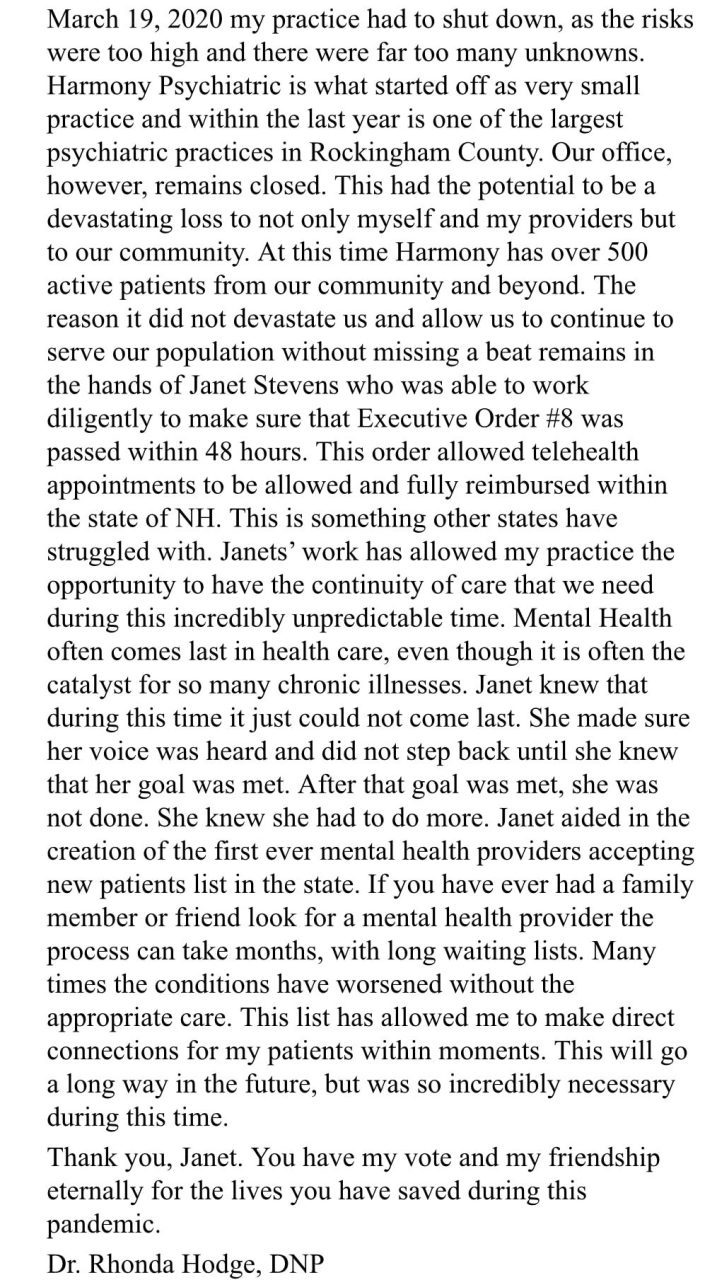 Friendship Drive Board
P.O. Box 1514
Salem, NH  03079
Dear Counselor Stevens,
I am writing for the board of Friendship Drive Cooperative, a resident-owned manufactured housing park in Salem.  Last month we were told by a city inspector that an on-going electrical issue might lead the town to send the residents of the park notices saying all (44) households would be having their electricity shut down, which would mean they would have to leave their homes and not be able to move back in until the concerns were resolved.  This was particularly scary because the supply-chain issues holding up the project are still a factor.
Knowing that this would have disastrous long-term consequences for the people who live here, we called a number of officials and people connected with the project for help.  You were one of the first to respond to us and made a number of calls on our behalf.  For this we are very grateful.
As it turned out, the city was already aware of the project and agreed that we could stay in our homes throughout the unavoidable delays.  The key players from the town, our funders, and the ROC-NH team that provides technical assistance to the cooperative are now working closely with us to bring the project to a swifter close.
Thank you again for your assistance in this crisis,
Yours sincerely,
Pamela Rothgaber
President of Friendship Drive Cooperative
Dear Executive Councilor Stevens,
I wanted to express my gratitude for your assistance in helping me with my application progress for The Emergency Rental Assistance Program. I appreciate your kindness and taking the time to intervene on my behalf by contacting ERAP, in which I quickly received notification from a case manager that my application has been approved and that my landlord would be receiving payment.
Thank you so much for going above and beyond, the people here in New Hampshire are truly lucky to have you represent us. I appreciate all the work that you are doing to make New Hampshire a great State to live in.
With Sincere Thanks,
Linda Severs-Dreher
Portsmouth, NH 03801